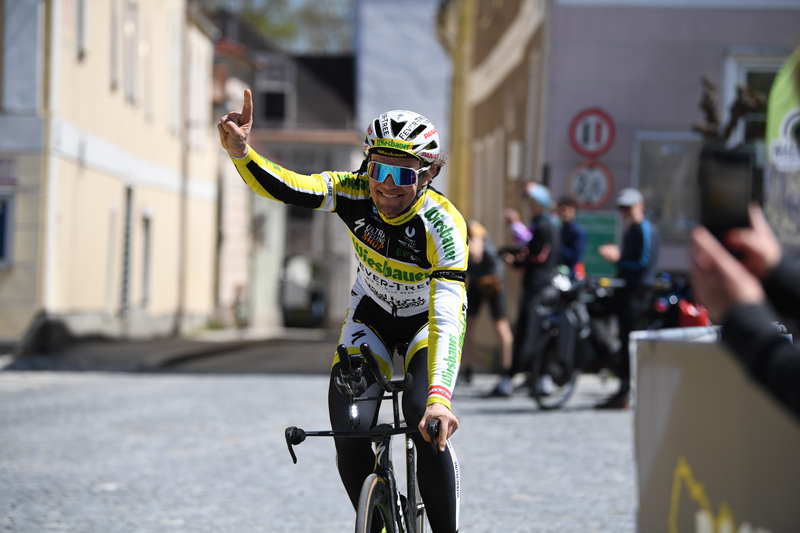 Roch and Strasser the benchmark at RAN 2021
May 08, 2021
Elena Roch and Christoph Strasser pulverized their (own) course records today at the Race Around Niederösterreich World Cup race. Under strict Covid 19 conditions, 6-time Race Across America winner Christoph Strasser was able to beat his record from last year by solid 35 min and break the sonic barrier of 17 hours. Elena Roch improved her previous year's record ride by a full 18 minutes to 22h 18min. A 24-hour live stream in cooperation with Sportland NÖ from the 700-year-old brewery town of Weitra and from the course provided all the decisions.
Record field of participants at the 3rd edition
Close to 160 cyclists from Austria, Germany and Switzerland set off from Weitra on Friday, May 7, 2021 from 16:00 (start interval 2 min) alone, in teams of 2 or 3 on the 600 kilometer route with 6,000 meters of altitude around Austria's largest province. While the weather with fresh temperatures and rain showers at the beginning of the race demanded everything from the participants, the west wind in the Weinviertel ensured fast passage times. Sunshine on Saturday motivated the participants on their adventure.
Fabulous time in the men's race
In the men's race Christoph Strasser showed once again why he is the world's best ultra cyclist. The 38-year-old started the race as the last solo starter and collected competitor after competitor on the first half of the course. After 12 hours of racing, he took the lead of the field. The Styrian continued to push the pace and with an average speed of 35.47 km/h he improved his course record, set last year at the Austrian Championships, by 35 minutes. With a fabulous time of 16h 55min, he thus broke the magic sound barrier of 17 hours. "It went so well. The weather is never going to be perfect. Performance-wise, there's not so much room for me to go up. After I have something big planned this fall (note: 1000km in 24h), this was a great test and that's why I got everything out of myself," said Strasser after crossing the finish line in Weitra in the heart of the Xundheitswelt. On the 2nd place landed as also in the previous year Philipp Kaider (18h 15min) and also the 3rd place went after 2020 but again to Robert Müller from Germany (18h 36min).
Even though the race had to take place without spectators, there was a new record to cheer for in front of the screens in the women's race. Last year's winner Elena Roch improved her record time again by a whopping 18 minutes to 22 hours and 18 minutes. "From Wastl am Wald to after Yspertal I felt so bad and thought I couldn't go on. However, my team helped me up again with Coke and tea," said the native of Lower Austria, who lives in Tyrol. Roch when asked if it would be possible to cycle around Lower Austria even faster: "Where I was faster, the time trial bike made up for it. Due to the stomach problems I think that still what is possible! I will certainly be back at the start next year!"
Title defense also in the teams
Amadeus Cosimo Lobe and Alexander Luger of Team CLR Sauwald Cofain 699 circumnavigated Lower Austria in 17h 05min. With a lead of almost two hours, the Upper Austrians succeeded in defending their title ahead of Team ND Car Performance (19h 03min). Third place went to Team Atterbiker by DiagnoSix (19h 04min). In the female 2-person team category, victory went to Triaholics (21h 03min). The 3-person team classification was won by Team "KFZ ELEKTRIK Racing Team" in 18h 01min, ahead of RSC Krems 2 (18h 59min) and last year's winners from Team OÖ Kinderkrebshilfe (19h 13min). The category 3-person team mixed was won by the "Fat Monks" in 21h 06min ahead of "Auch Namenlos Grandios" (21h 33min).